Minnesota Winter Activities
Spear Fishing and Ice Fishing on Steamboat Bay!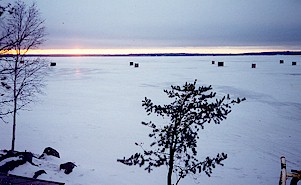 In Minnesota, fishing season doesn't stop when the ice covers the lake...
That's when the next season is getting started! Book with us during the winter months for a cozy cabin to stay in during your next ice fishing adventure. Bring your favorite portable fish-house or shack and access the premiere fishing of Steamboat Bay from our resort.
Spear House Rentals
Come enjoy one of Minnesota's greatest sport fishing adventures on Leech Lakes beautiful Steamboat Bay. Houses are 5'x6' heated with a 2'x4' hole to observe northern pike and several other species through the ice. Upon arrival the heat will be on, the hole will be cleaned and ready for you to spear and angle. The house rental includes 2 decoy lines, skimmer, chair, and measuring tape. You are responsible for license, spear, fake or live decoys, and bucket for the fish you keep.
$100/Day RENTALS COME WITH:
5'x6' Houses with heat and two chairs
2'x4' Hole - kept open
2 Decoy lines
Spears and fake decoy rentals for an extra $25/day
Stay with us and receive 10% discount on spear house too!